More Than Eye Exercises
Vision therapy is a noninvasive treatment option to help the brain and the eyes work better together.
Skills such as walking and talking develop as we grow. Visual skills are no different. The visual system is complex, and if visual skills don't develop properly, intervention may be required. Both adults and children can benefit from vision therapy.
Vision therapy is more than just eye exercises. Sometimes exercises are involved, but vision therapy is an evidence-based course of treatment, supervised by an optometrist and supplemented by at-home activities.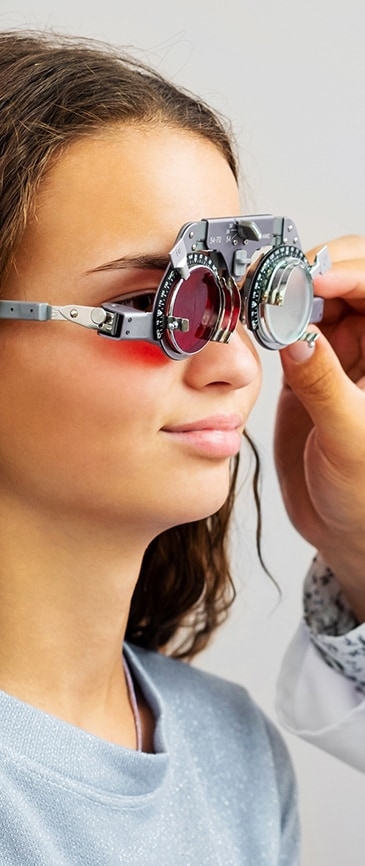 What Are Visual Skills?
You might not think of eyesight as a skill, but it certainly is. There are 17 visual skills important for your everyday life.
Some of these skills include:
Fine Visual-Motor: Accurately performing small, close-up tasks like sewing a button or sending a text message.
Visual Perception: The ability to take in your environment through your field of vision and process your surroundings.
Alignment: Various types of alignment include the ability to line the eyes up at the same point and hold them there.
Eye Movement: Following the eyes along a path, like reading a line of text in a book.
It isn't as simple as just "seeing." As you have read above, there are plenty of components that make up your vision. When one is not working correctly, vision therapy may be the answer.
Vision Therapy Begins With an Assessment
The first step of the vision therapy process is to schedule an assessment. This in-depth series of tests will assess your visual system for any possible deficiencies.
If any visual concerns are identified in the assessment then personalized vision therapy will be recommended for you. Book your assessment today.
OUR LOCATION
AECC Regina
3617B Pasqua Street

Regina

,

SK

S4S 6W8
Hours of Operation
Monday

:

8:00 AM

–

5:00 PM

Tuesday

:

8:00 AM

–

5:00 PM

Wednesday

:

8:00 AM

–

5:00 PM

Thursday

:

8:00 AM

–

8:00 PM

Friday

:

8:00 AM

–

5:00 PM

Saturday

:

8:00 AM

–

1:00 PM

Sunday

:

Closed
*in July and August we are closed on Saturdays and open 8:00 AM – 5:00 PM on Thursdays
Our Brands